Christmas 2016 Collaboration
I hope you enjoyed this silly little reprieve. Hobo Santa riding a polar bear is the official saint of Crater City's winter holiday.
The Tapastic Holiday Collaboration is an annual group project organized and run by independent creators on Tapastic. Just a group of artists spreading holiday cheer the best way we know how, through lots of hard work and comics. Check here each day to see the latest collab episodes in the series.
Follow Jane's card to the comic Heroes of Thantopolis by Strontium.
Comic Trivia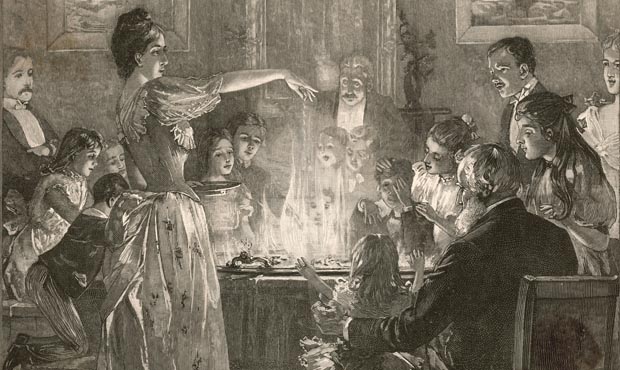 Snapdragon (or flapdragon) was a parlour game popular from the 16th to 19th centuries. It was played during the winter, particularly on Christmas Eve. Brandy was heated and placed in a wide shallow bowl; raisins were placed in the brandy which was then set alight. Typically, lights were extinguished or dimmed to increase the eerie effect of the blue flames playing across the liquor. The aim of the game was to pluck the raisins out of the burning brandy and eat them, at the risk of being burnt.
"The wantonness of the thing was to see each other look like a demon, as we burnt ourselves, and snatched out the fruit." – Tatler magazine (18th Cent.)
Some video I found online. Don't try this at home.